A ready smile is an excellent icebreaker. But, unfortunately, it's not always easy to smile when you have a stained or discolored smile. The good news is that you can get your bright smile back through teeth whitening at Heron Park Dental. Call today to book your appointment.
Causes of Tooth Discoloration
Teeth may become stained or discoloured due to various reasons, including:
Excessive tobacco use
Poor dental hygiene
Disease
Ageing and genetics
Certain medications
Dental materials, e.g., silver amalgam fillings
Dark-colored drinks and foods
Scheduling regular dental exams and cleanings can help prevent tooth discoloration. However, if you're already struggling with discoloration, all is not lost. A single teeth whitening session at Heron Park Dental can bring back your smile's lost glory. Please note that some forms of discoloration cannot be treated via teeth whitening. In such cases, we may recommend alternatives such as dental crowns and veneers.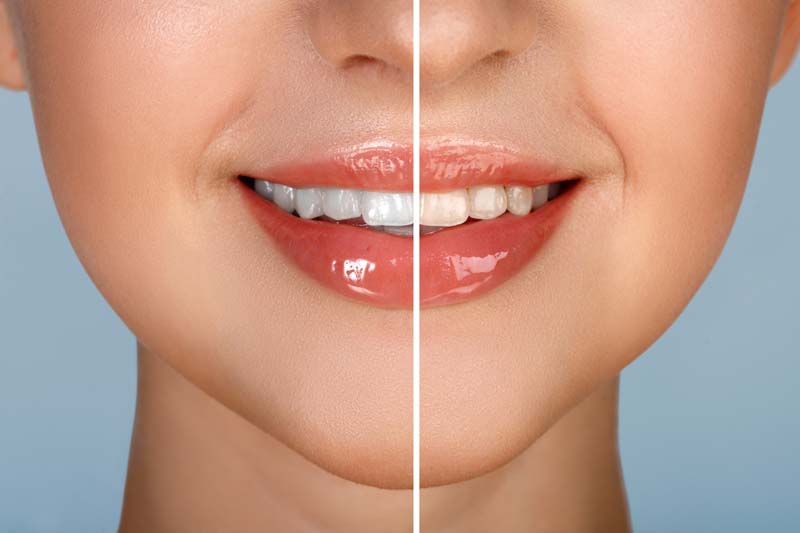 Lumineers Dental
Dental Implants
Orthodontist
Invisalign Treatment
Endodontics
Emergency Dentist
Dental Crown Bridge
Dental Fillings
Gum Disease
Radiographs
Teeth Whitening
Dental Examination
Extensive Experience
Wide Range of Services
Affordable Prices
Friendly Team
Teeth Whitening Step-by-Step Procedure
Before recommending a tooth whitening procedure, our dentists will carefully evaluate you to determine if you have any ongoing issues such as cavities. Such problems will need to be resolved first before you can proceed with the whitening treatment. The whitening procedure involves the following steps:
The dentist checks the shade of your teeth to determine the degree of whitening required.
Next, the dentist thoroughly cleans your teeth to get rid of plaque and food debris.
The dentist applies a gingival barrier to protect your gums during the whitening procedure.
Finally, the dentist applies the whitening product (hydrogen peroxide) to your teeth. Hydrogen peroxide whitens teeth by breaking down the complex tooth stain molecules into smaller, less visible components.
The dentist may rinse and re-apply the whitening gel every fifteen minutes until they achieve the desired shade. In addition, some specific whitening systems use a special light to accelerate the bleaching process.
After your final rinse, the dentist applies fluoride varnish to protect your teeth against sensitivity.
Are you tired of feeling uneasy about your smile? Unfortunately, many people with stained teeth experience the same feelings. Thankfully, your well-deserved smile makeover is only a phone call away. To experience advanced and painless teeth whitening near you, book an appointment with Heron Park Dental.
Book yourself in for a well-deserved smile makeover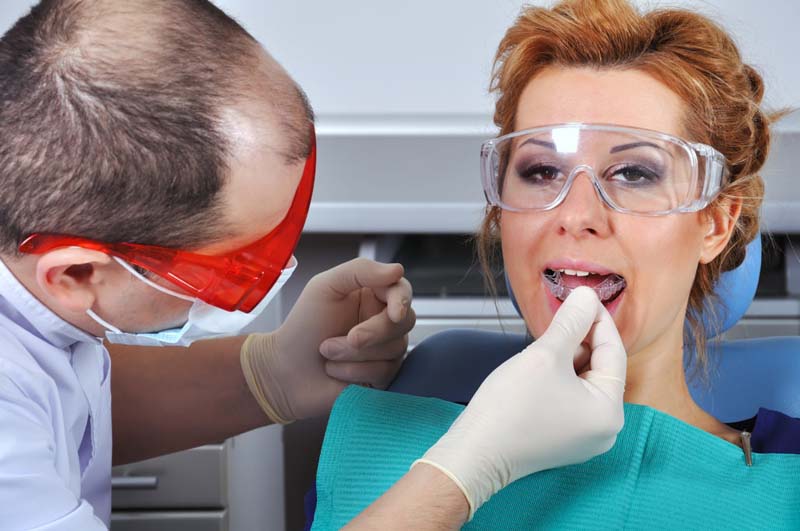 Gentle, precise and advanced oral care!
Are you looking for the most experienced and compassionate dental care providers in Ottawa? Book an appointment with Heron Park Dental today!
Dr. Al-Taee dentistry is committed to ensuring that the collection and processing of data carried out by our
heronparkdental.com
site complies with the General Data Protection Regulations (GDPR) and the Data Protection Act. To know and exercise your rights, particularly concerning the withdrawal of consent to the use of collected data, please consult our
privacy policy